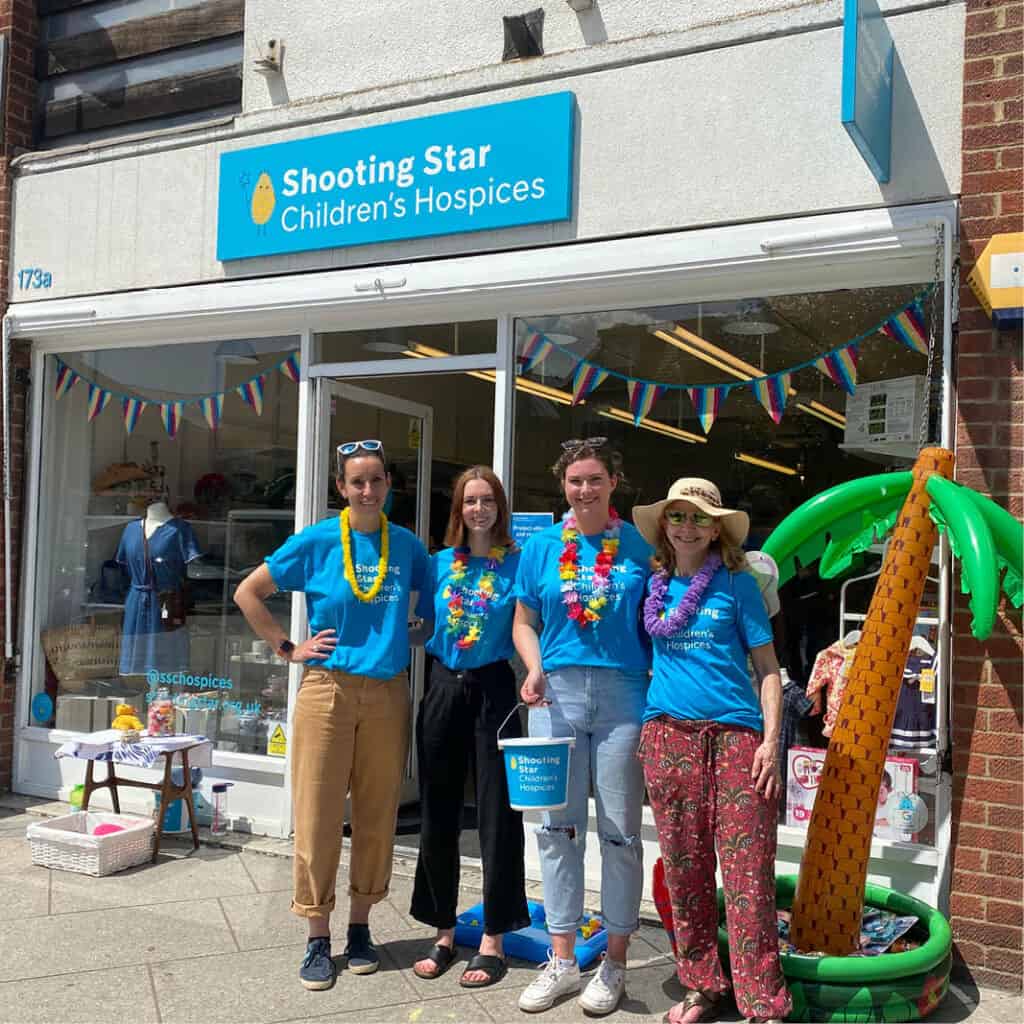 Apprentice Shop Challenge
We know our corporate partners love a challenge, so what better way to channel your enthusiasm and energy than our Apprentice Shop Challenge and taking over the running of our charity shops for a day. The challenge doesn't just happen on one day, you can start the fundraising and teamwork in advance at your place of work with stock collections, fundraising and planning for the big day! It's an opportunity to involve large numbers of colleagues, customers and suppliers.
Planning for success
Create a team
Consider a team name (very important) or theme for your team.
Allocate responsibilities
Who can lead the team to a win? Who has the skills to market your activities? Who can source you the best stock or prizes for a raffle?
Arrange a site visit
It's a great idea to visit your shop in advance, meet the manager and plan what you can do on the day.
How to win
Stock donations
Any items you donate we will value and add to the income raised regardless of when we sell them. You can start your collection in advance of your Apprentice Challenge day, so ask friends, family and contacts to donate fantastic items that will give a great valuation and increase your total.
Fundraising activities
From bake sales to quiz nights and sponsored tea making to sweepstakes, whatever activities you plan before your big day, will help build up your total, so before you even reach the shop you could be leagues ahead of your competition!
Shop sales
Encourage contacts to donate raffle and tombola prizes that can be used in your shop on the day, organise fancy dress or competitions and activities that will increase footfall on the day and increase money through the tills. Don't forget to promote your activities in advance to drive customers into the shop.
More info
Activities before the day

Activities in the shops

Housekeeping

Contact
Activities before the day
Set up a JustGiving page for your team and encourage donations.
Hold an event to help aid your fundraising – a bake sale is always a winner, everyone loves cake!
Stock collections – all stock you donate to your shop will be valued and the total added to your takings on the day.
If you're planning to host a raffle in the shop, seek out great prizes. Use your contacts, suppliers and network to secure fantastic prizes that people won't be able to resist buying raffle tickets to win.
Activities in the shops
Advertise your activities – you can drop posters to your shop in advance to promote your big day. Take to social media and include @sschospices when using Facebook, Twitter or Instagram.
Host a raffle or tombola – everyone likes to win, so these are always popular with customers.
Organise a bucket collection – make sure you secure a permit to collect outside the shop if you plan to do this.
Wear fancy dress – it will attract attention and will be lots of fun at the same time.
Housekeeping
As with every activity, there are a few housekeeping rules when you are in our shops:
Please do not actively ask for donations from the general public or neighbouring businesses.
Please do not sell alcohol.
Please ensure you and those around you are safe at all times.
Please allow enough time to leave the shop tidy and ready for standard trading the next day.
Sarah Adam – Talent Team, Page Group
Everyone felt so strongly about the charity that they were all just totally committed to the cause.  Your team in the Walton shop are lovely and were really supportive and encouraging of us and we thoroughly enjoyed the day.  Please give them our thanks as they didn't mind us moving things around and getting in the way which made life very easy!