Finn's story
September 16, 2021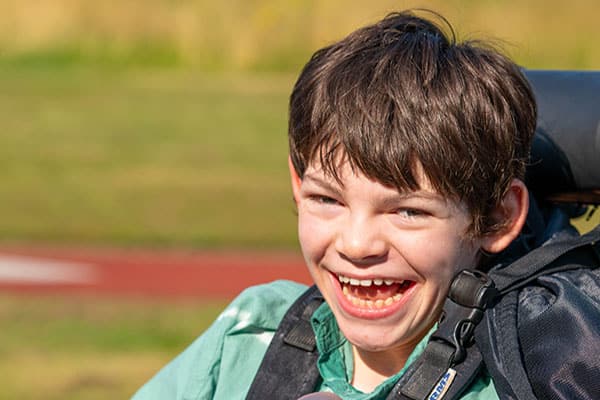 The pandemic and lockdown presented many challenges for the families we care for, but the support from Shooting Star Children's Hospices to Finn and parents Niamh and Toby, was all the more important when mum Niamh was diagnosed with cancer.
"It was the start of December 2019 when Niamh had a cancer diagnosis," explains Toby. "So obviously at the beginning, February and into the March lockdown – it was doubly important that Shooting Star Children's Hospices were there, they really did help us with emergency support. It just added another layer, it's been a very difficult year for everyone, and obviously for anyone who has a disabled child," explains Toby. "But also, with Toby having to work from home, and I couldn't do anything to help, he was solely looking after Finn, having to juggle both things," said Niamh.
"The team at the hospice would often phone up unprompted to check in, because Niamh was either in hospital or at home trying to recuperate and we were shielding – so simply asking if we're ok – for me was really, really helpful. I mean, Shooting Star Children's Hospices has been great all the way along, but the last 18 months, it brings it all home what they do. It's a godsend when you're at your lowest ebb," said Toby.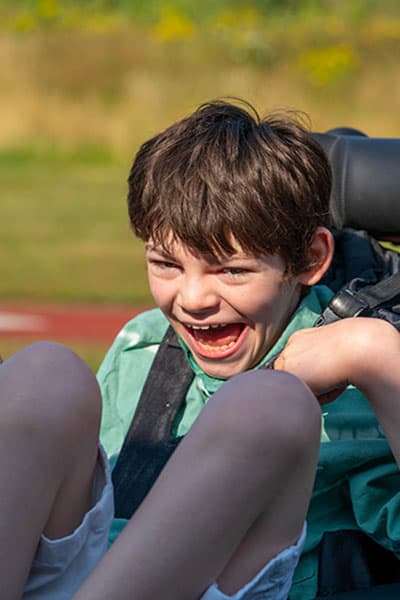 "It was so hard as Niamh has always been so fit and active and able, so just not being able to help with Finn because she was feeling so ill, having surgery and chemotherapy, she was just physically not able. I think that's when, it almost felt like the team at the hospice had a sixth sense, somebody would get in touch, and of course help with emergency respite for Finn," said Toby.
Finn, who's now 12 years old, collapsed 24 hours after he was born, he was rushed to hospital and needed resuscitation. The lack of oxygen to the brain left him with an extensive brain injury.
"He's non-verbal, unable to walk and has widespread global delay so has serious complex needs. He has significant epilepsy and that's a major thing to manage, having to be monitored to keep his seizures under control," explains Toby.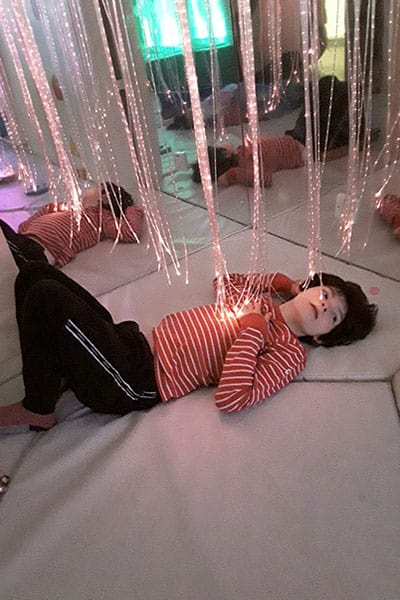 "He needs everything done for him, from being fed, changed, moved – which can be very physical and tiring – especially as he's quite big now. I found it quite isolating as a mum, because other children get to socialise, play football etcetera and in turn you as a parent get to socialise but it's just not possible with Finn. Also Finn doesn't sleep at night, at age 12 I'd say he's slept through four or five nights in his lifetime – so just to be able to have a break is amazing. My family don't live in the UK and Toby's parents are quite elderly, and I would be nervous if I had other people looking after Finn, but when he's at Shooting Star Children's Hospices I feel I can relax 100% and know he's being looked after properly – all the special equipment and experiences he can have – it's all there," said Niamh.
"It is very isolating having a disabled child, we have lots of good friends and people who help and know our situation, but I think when you have a situation like ours last year, when you're stuck in the house, carers aren't able to come in and you can't get extra help, you just feel so on your own – it's frightening. The team at the hospice acknowledged that and knew what we were going through," said Toby.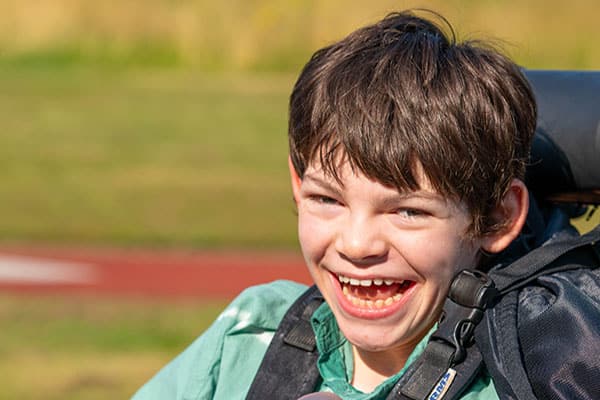 "When we found out about Shooting Star Children's Hospices, way back when, it was great to access the services – for Finn just being able to come stay with you, without being too dramatic, it's been the consistent thing that keeps you going. As much as you love him, everybody needs a bit of a break and it's great for him as well because we know when he goes, he enjoys so much. The hydrotherapy pool, the sensory room, it's so well geared up and equipped and everybody's lovely – you feel confident he's going to have a nice time and have a break, like us. It's a double whammy, he gets spoilt rotten and comes back really happy," said Toby.
"I think the thing you're so used to is the medical world, he has tons of hospital appointments and doctors, so the lovely thing is when you go down to the hospice, it's not like that at all. It's very much a friendly home environment. And that's really important as we all fit in there, you feel happy, and he feels calm," said Toby. "I also love that nothing seems to be a problem, there are people used to dealing with children like Finn, no ones phased by anything, which is really reassuring as a parent."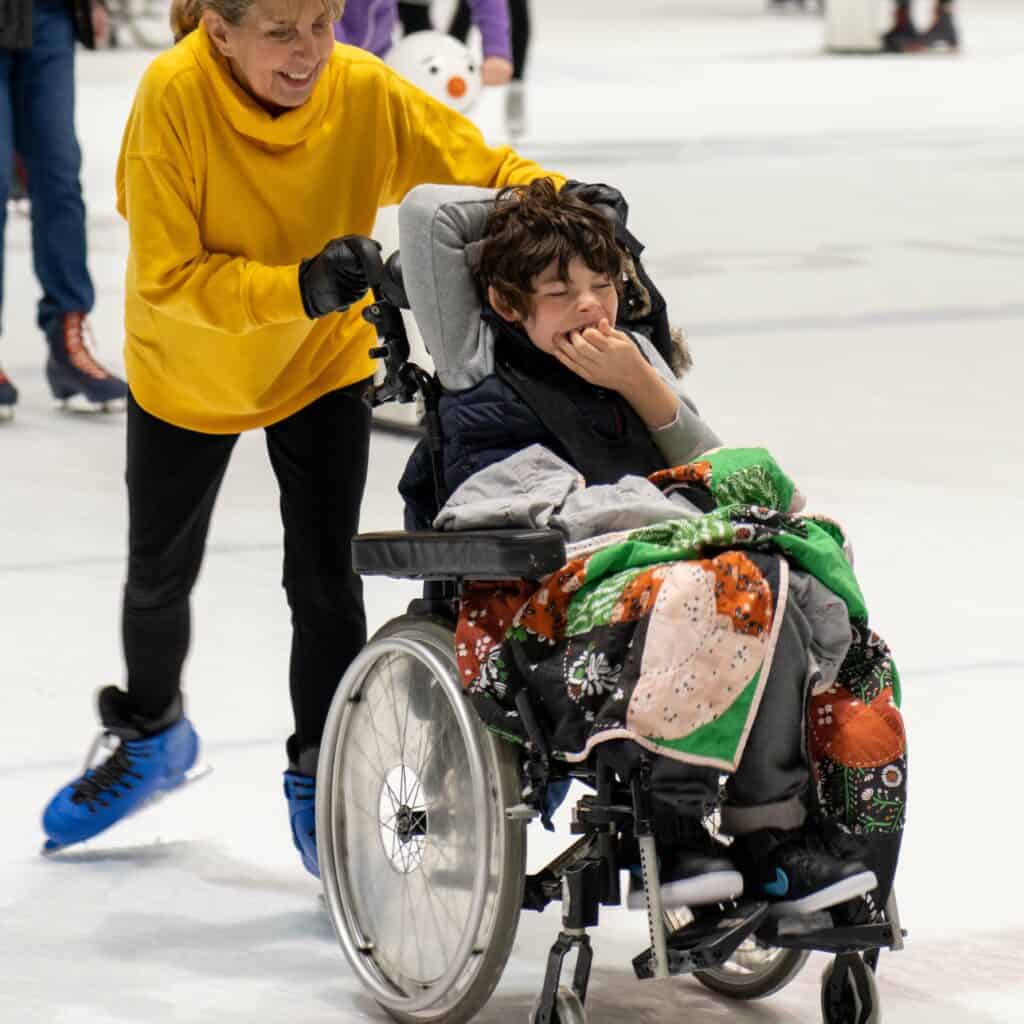 "Finn doesn't have a diagnose per se, so we don't know what the future will hold, we'll never know that, so when our friends told us about Shooting Star Children's Hospices all those years ago it was a revelation for us, for the first time we knew there was somewhere Finn could go. It felt like it was a bit of hope. We just wouldn't be able to have a break if it wasn't for Shooting Star Children's Hospices, it's as simple as that," said Niamh.
"Touch wood, Niamh's treatment is going really well and everything's looking a bit brighter but last year was very difficult indeed," said Toby. "Shooting Star Children's Hospices were really important to us last year because of everything that happened to me, since the get go they've been a godsend," said Niamh.
When you support us you are helping to provide care to children like Finn and his family. You can help us be there for families now and into the future by donating.