Hadi's story
September 16, 2021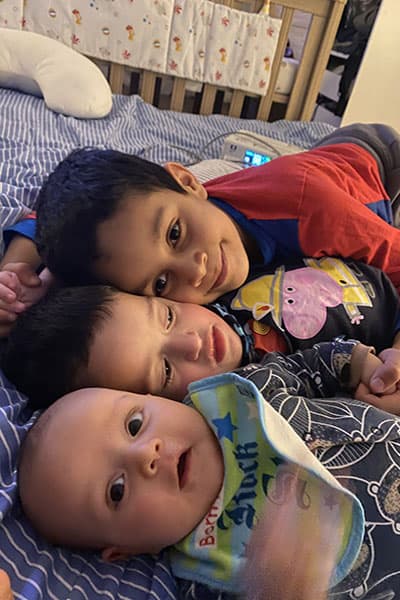 Five-year-old Hadi has Spinal Muscular Atrophy type one, the severest form of a rare genetic condition that causes muscle weakness. "His life expectancy at first was no more than six months, but against all odds he's reached the age of five," explains mum Sanaa.
"Hadi's condition means he requires round the clock care. As soon as he goes to bed, he must be on a BiPAP machine to help him breathe. Hadi also has severe scoliosis, this means he's unable to sit upright without a brace to help his posture. He needs constant suctioning to help clear his airways and needs to be watched constantly."
Hadi is the middle child of parents Sanaa and Reda, with nine-year old son Nizar and baby Nial, one in November, completing the family.
The whole family benefit from the wide range of therapies offered by Shooting Star Children's Hospices. Recently, Hadi had a choking episode resulting in a trip to A&E and alarmingly has gone into respiratory arrest three times at home. "It's very scary when things go wrong with him – anything can happen with him at any point," said Sanaa. "Counselling at the hospice has helped a lot, especially on bad days." Sanaa would regularly see one of our counsellors at the hospice, and during the pandemic she has continued to do so remotely. "I've been through a lot and not sure how I've managed to cope but they've been, and are, so supportive."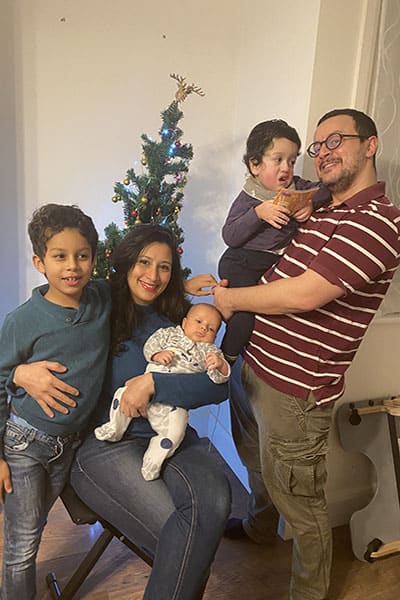 When Shooting Star House was temporarily closed over the pandemic, Hadi and his family couldn't come to the hospice. "It's been a real struggle. We've been through a lot, and I had that fear if anything were to happen to us, who would be there to look after him? I've really learnt to appreciate Shooting Star Children's Hospices so much more when we didn't have it, so I'm delighted that it's reopening – I'm going to get in touch to get my sessions booked in." Sanaa smiles.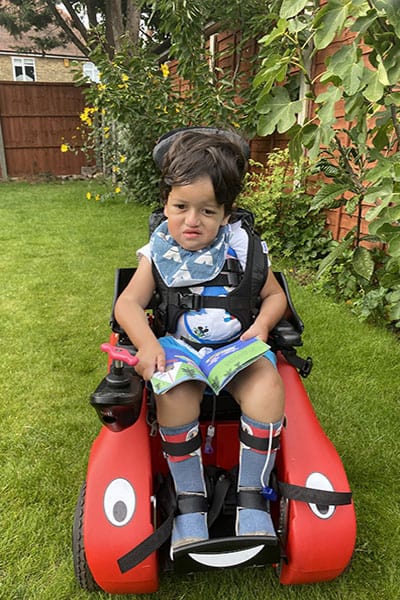 It's not just Sanaa who has benefitted from virtual support as nine-year-old Nizar has also taken part in the virtual siblings' group. "He joined for one of the sessions and really enjoyed it, but what he really loves is being at the hospice and having the one to one with the drama therapist," said Sanaa. "They've developed a really good bond and he so looks forward to it. She helps get his emotions out. The last session she showed my a drawing he'd made showing how his life had changed – it got me very emotional.
"It's so nice to know Nizar sees it as the fun place, and to be honest we've never seen it as a sad end-of-life place, even when Hadi was younger, and we were told he was at the end of life.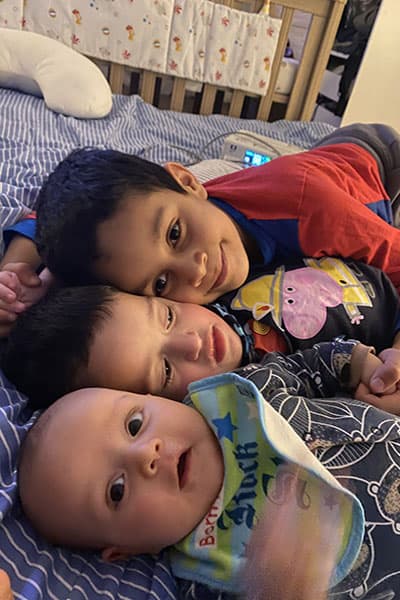 "We'd lost hope. Hadi was at the hospital and a nurse from the hospice came to see us and took prints of his hands, his feet, his thumb and brought me a lovely blanket. She told me about the cold room that could be prepared at the hospice to say goodbye, and when I visited, it just wasn't how I'd imagined – and there was the memory tree with all the little stars with the names of children that had died, and we thought what amazing support – this place is for the best and the worst. We don't see it as an end-of-life place, we see it as a place for lovely memories and joy.
"I know if something happened, I always know I can ring them. Having the anxiety of Hadi depending on me, it's so reassuring to know they're there – Shooting Star Children's Hospices is our peace of mind."
When you support us you are helping to provide care to children like Hadi's, and his family. You can help us be there for families now and into the future by donating.