Wonderful wedding celebrations
October 14, 2022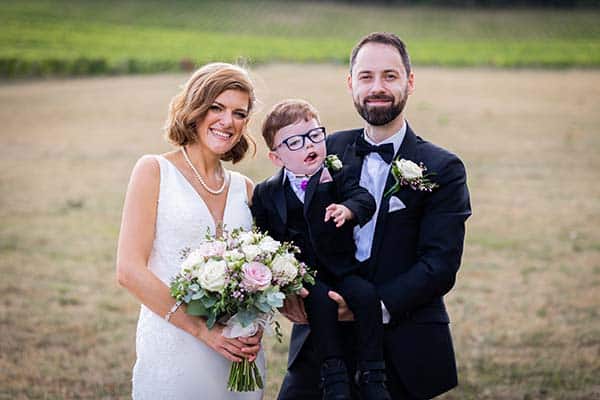 For the families we support, we aim to be there for them in every way we can and help make magical memories. So, when Michelle and Mark were set to tie the knot, we were more than happy to be able to offer our specialist nursing care to support their son Patrick and help him be a big part of his parents' most magical day.
Nurses Jess and Louise, who work as part of our in-house nursing team at our Guildford hospice Christopher's, attended the wedding to help look after Patrick. This allowed Michelle and Mark to feel at ease on their big day and feel assured he was in safe and experienced hands.
Patrick, who's nearly three, was born with Tubb3 syndrome, a genetic condition which means he has many medical needs and requires 24-hour supervision. He spent the first seven months of his life in hospital, until he was referred to us during summer 2020 for three weeks of step-down care. Patrick spent time at Christopher's to help Michelle and Mark feel confident using his medical equipment and administering medication before taking him home. At the time Michelle said, "It was so nice to be in an environment that's not medical. The opportunity has been brilliant to help us become independent with Patrick's care. We're so grateful to the hospice; it was the perfect transition between hospital and home."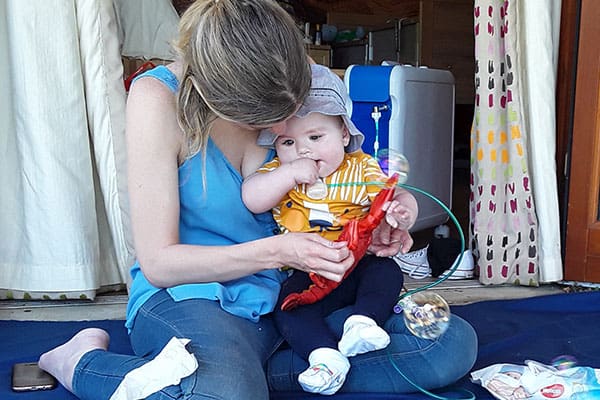 Since then, we've supported the family as Patrick has grown, and were proud to be there to support Patrick during his parents' wonderful wedding at Denbies Vineyard this summer.
Jess O'Leary, Nurse at Shooting Star Children's Hospices, "It was an honour to be asked to accompany Patrick to his parents wedding and a privilege to be able to care him. This allowed for Mark and Michelle to have a relaxed and memorable day with Patrick along with their family and friends."
Mark's mum, Rosemary wrote to us to share what it meant having Jess and Louise there to help with her grandson; "I wanted to write to express my thanks and gratitude to the staff of Shooting Star Children's Hospices. Jess and Louise came to look after Patrick on the day to enable Mark and Michelle to have the wonderful day they so deserved. I cannot speak highly enough about these two lovely ladies. They were so very kind and professional and wonderful with our darling grandson Patrick. These two wonderful ladies are exceptional. You all do such a wonderful job on a daily basis, and as a family we cannot thank you enough for allowing us to celebrate Mark and Michelle's wedding knowing little Patrick was being looked after in such a kind and loving way. Our heartfelt thanks and gratitude from all the family. God bless you Jess and Louise from the bottom of our hearts, you are a credit to your profession, and you made the day so special for us all."